An intelligent algorithm recommends more efficient marketing measures – Fonecta's innovation awarded, best in Europe
29.5.2023 | Lukuaika 4 min
The algorithm compares companies within the same industry and recommends the best solutions.
Fonecta took home gold with its AI based innovation in the annual Digital Innovation competition organized by the European based non-profit association Siinda. The award, presented in Berlin this week, was given for a feature that analyzes and recommends more efficient marketing actions using an intelligent AI based algorithm.
The feature is the first in the European market, and unique on a global scale.
"We were awarded for a significant new feature that we have built into the Oma Fonecta service. The feature enables us to demonstrate to customers how their marketing works, how it could be made more efficient and suggest concrete improvements and measures", says Fonecta's Head of Product and Technology Markus Vuorinen.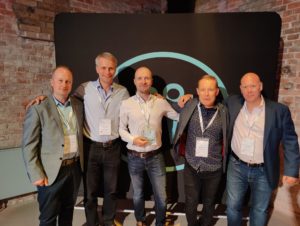 Fonecta's team accepting the award in Berlin: Kristian Tuisku, Patrik Sallner, Markus Vuorinen, Antti Tukia, Antti Vaasjoki.
Oma Fonecta is a free self-servicing channel designed to help companies with information management across more than 20 different search, recommendation and map services as well as to monitor the number of screens and contacts.
"Using an intelligent algorithm, the new recommendations section enables us to automatically recommend the best solutions to our customers for improving their marketing measures. The recommendations are generated comparing the company's marketing efforts to other companies in the same industry. The uniqueness of this solution was also recognized by Siinda's award committee." says Vuorinen.
According to Vuorinen companies have reacted positively to the new Recommendations section. "We can already see the tangible benefits it provides. The Oma Fonecta service is designed to assist Finnish companies and entrepreneurs in developing their digital marketing. It is free for all of Fonecta's 20,000 customers, and the service is available automatically."
"A significant leap internationally"
The award is a significant acknowledgment of the great work that Fonecta does daily for the success of Finnish companies, says Fonecta's CEO Patrik Sallner.
"We aim to be the primary digital partner for Finnish companies. This is best achieved by offering real solutions that facilitate and promote businesses. Oma Fonecta Recommendations section is a significant step forward and by receiving this award our work and this major step forward have been internationally acknowledged."
Siinda is a European non-profit association that brings together agencies, brands, media and technology companies in the fields of local marketing, digital advertising, media and online discoverability. More information about the awards here
A picture of Oma Fonecta's Recommendations section can be downloaded here.
For more information:
Markus Vuorinen
Head of Product and Technology, Fonecta
markus.vuorinen@fonecta.com
+358 40 351 8207
Patrik Sallner
CEO, Fonecta
patrik.sallner@fonecta.com
+358 40 544 3441
More information about Oma Fonecta service: yrityksille.fonecta.fi/ohje-oma-fonecta
Fonecta is a digital marketing expert company. We help our customers grow through digital marketing by combining the world's best targeted marketing platforms and our knowledge of Finnish companies. We are Finland's leading LinkedIn specialist and Yext's representative in Finland. We have grown with digitalization since our founding in 2002 and we live as we teach. There are a total of 250 Fonecta employees in Helsinki, Pori, Tampere, and Turku.