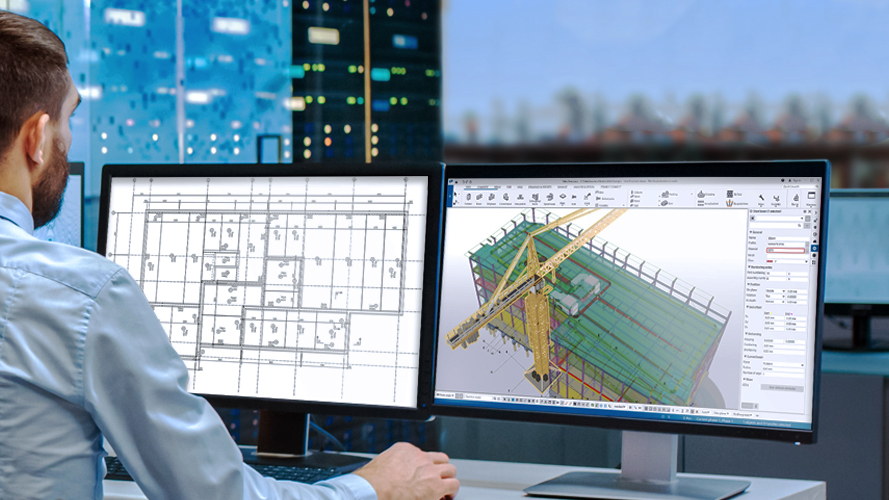 Impressive results with strategic planning and a reliable LinkedIn partnership
When you are marketing complex B2B software products globally, you need a set of effective reliable tools ‒ and partners. Trimble, with more than 150 markets and employees in over 40 countries worldwide, provides software, hardware, and services for a variety of industries including agriculture, construction, geospatial, transportation and logistics.
Fonecta has been Trimble Tekla's LinkedIn partner since 2019 in marketing their 3D, model-based software for Construction, Structural and Civil Engineering.
LinkedIn helps to advertise complex entities in an organized manner
Campaign building can be complex with multiple markets and language areas, different software's, and customer segments to handle. Robert McKenzie, Global Digital Marketing Manager at Tekla Software thinks that LinkedIn has made mastering even the most complex global campaigns as easy as it gets. "I use for instance a solid filing structure system and naming conventions in campaign building. Getting the structure right from the offset is important, and helps with campaign management, budget control, optimisation and ultimately analytics and reporting.", he explains.
One global account works as an umbrella for most of their regions, while some of the bigger markets have country-specific accounts. All the advertising happens under one master account which sits within Fonecta's LinkedIn Ads Account.
Hands in the clay with support from a proactive partner
McKenzie is doing all Tekla's LinkedIn global marketing hands-on from designing the campaigns, building the assets and tracking parameters to analytics and optimization ‒ while working with other marketing specialists and global marketing teams.
Fonecta's role as a LinkedIn Partner in Finland is to offer proactive collaboration and supporting the client in the best possible ways to succeed with LinkedIn marketing.
"I am really happy with their proactivity in telling me about new features, platform developments, or other up to the minute information that could affect my work. This proactivity is something that you just don't get from every supplier", says McKenzie.
The best partnerships work together towards a common goal
Even though McKenzie is an experienced and skilled LinkedIn marketer himself, he emphasizes the importance of Fonecta partnership. "Fonecta is not a regular supplier. To me they are more like a safety net. Think of all that time I would spend trying to solve issues on my own, and I know I will get a comprehensive answer from experts within 24 hours. It feels like having a helpdesk channel directly with LinkedIn.", McKenzie praises the smooth collaboration.
A designated contact from Fonecta has been of big value to McKenzie, and both parties describe their partnership with warm and respectful words. Juha Suomela, McKenzie's contact person at Fonecta tells: "Our collaboration's core is really that if Robert & Trimble Tekla succeed, Fonecta succeeds. We are always just a phone call away and ready to help him".
Growth and results with strategic campaign planning
McKenzie builds targeted campaigns that drive people to a specific landing page, a webinar registration or to other strategic assets. Behind everything he does is a lot of strategic planning, as LinkedIn is a significant B2B lead generation channel for Tekla Software.
"We have a very strategic methodology in our posting, both in organic and paid. The frequency of our posts is based on data. I always create a minimum of 4 ads per campaign and let them rotate until I can see which one performs the best. We run parallel evergreen campaigns with lower budget and smaller campaigns with higher budget to create variety and to always be present for potential customers," he opens up some of his proven methods.
This might mean a lot of work, budget and optimizing, also trial and error. But it also means results.
"In 2 years, we have grown our organic follower base from 30 000 to 70 000 and gained a big share of voice in our segment. Our CTR is clearly above average, conversion rates are really good, and we have the optimal audience sizes for right campaigns", tells McKenzie. "We aim at using LinkedIn's tools and features to the max. That's what they are for, to help us advertise better. And I'm lucky to have Fonecta's expertise as a support everyday".
A growing B2B-marketing channel with many opportunities
For Trimble, LinkedIn is an efficient and versatile tool to reach B2B target groups, such as business leaders and senior professionals. The possibilities that LinkedIn offers are remarkable. "LinkedIn is growing as a business and as a channel all the time, which means that the number of potential customers and the tools to reach them keep growing as well", says McKenzie.
McKenzie values also LinkedIn's first party data, which is currently there without any issues, that some other advertising platforms have experienced with the changes in the online advertising tracking infrastructure.
Emphasis on employee advocacy and social engagement
As a seasoned LinkedIn marketer, McKenzie has for sure his favourite tools and features on the platform. "I'm a big fan of employee advocacy, so one of my favourite features right now is the Content Suggestions feature where you can publish a post, for instance an article, employee milestone, or company news only for the employees, and encourage them to share it. Often messages coming from the employees are more engaging than the ones directly from the company", McKenzie tells.
He also sees social engagement of the posts as an increasingly important factor. "We do not just want to post for posting's sake, but we want to have communication and engagement around the post. It's all about the customer, and the post needs to be from the customer perspective as well", McKenzie explains.
Maybe next time in Helsinki?
Even the remote working era has not affected the development of the warm partnership between McKenzie, who sits in Leeds, United Kingdom and Finnish-based Fonecta. Collaboration towards common goals and better results continues as usual.
"Working with Fonecta has not only been a real advantage and major help in LinkedIn marketing. It is also a pleasant and reliable, one-of-a-kind partnership", says Robert McKenzie. His contact person Juha Suomela could not agree more, and they both are looking forward to times when they can finally discuss LinkedIn and beyond around the same table.